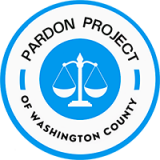 You have options with the Pardon Project of Washington County.
Pardon applications are free and easier to submit than ever. The Pardon Project of Washington County helps non-violent ex-offenders (and their families) move their lives forward.
Pennsylvania is leading the nation in pardon reform. A lawyer is not required, and over 80% of the people going before the Board of Pardons actually receive a pardon! Over a ten-year period, pardons brought over $16.5 million in higher wages to Pennsylvania communities.
If you have ever pled guilty or been convicted of a state crime in Pennsylvania and have completed your sentence, you should consider applying for a pardon, which is total forgiveness that erases your record. You will never have to "check the box" again!
We are public officials, government agencies, law enforcement, lawyers, and social workers. Click here to see the list of the people and organizations on the Pardon Project of Washington County team.
Trained volunteers ("Pardon coaches") know the process, understand factors the Board of Pardons considers, and help applicants submit the best possible pardon applications.
Click here to read the criteria to determine those eligible for free services from our pardon coaches. We help low-income residents of Washington County who have turned their lives around (at least three years after having completed their most recent sentence, with no open prosecutions; at least three years in drug and alcohol recovery, if applicable).